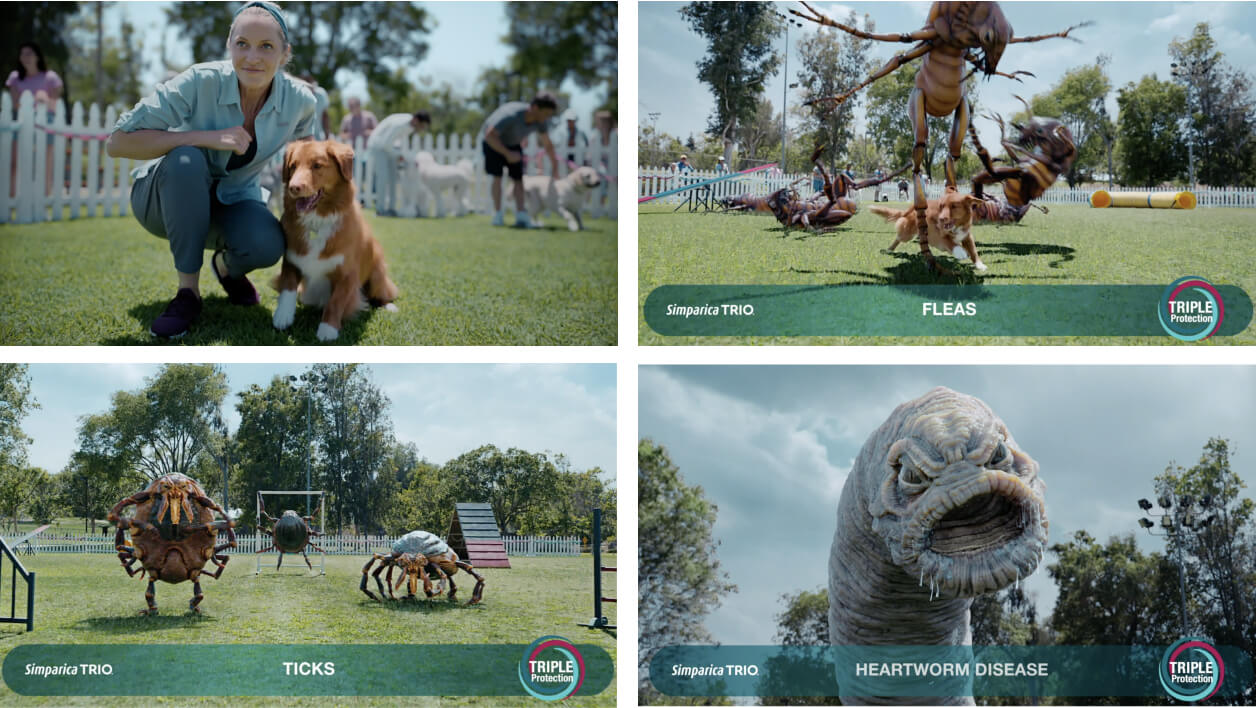 Background
Many dog owners do not know that ordinary heartworm, tick and flea products can leave their dogs vulnerable.
Idea
We set out to develop a campaign to show pet owners that their dogs remain at risk of parasites, and to offer them a solution: Simparica Trio—the first parasiticide that combines flea and tick, heartworm, and GI parasite protection in one monthly chewable. We knew they would care because pet owners love their dogs like family and want to keep them safe so they can live long, happy and healthy lives.
To cut through the clutter of the various ads containing dogs on TV, we took the traditional setting of a pet campaign, a quaint agility course, and infused it with a raw and edgy energy. A slalom morphs into a row of fleas, a doggy tunnel turns into a menacing heartworm. The dramatization of these parasites in larger-than-life form shows how a seemingly safe space can quickly turn into a dangerous environment for dogs; and how even the smallest parasites can become a big threat. Ultimately, the dog and their owner are not phased by the parasite obstacles, because they are protected with Simparica Trio.
Ogilvy

Health brought their A-game when creating the Unstoppable :30 spot and campaign. No surprise to our team at Zoetis, the spot over-delivered to the brief to be original, create urgency and break the mold of being "just another dog medication commercial." Brand Awareness has shot up 5 points after just 6 weeks on the

air!

- Zoetis